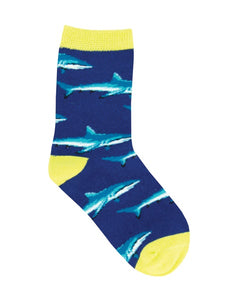 Shark School - Navy (Kids' Socks - 3 Sizes Available)
SockSmith offers an
impressive
collection of fun printed and patterned crew socks. Perfectly comfortable for little feet, the kiddos in your life will love them!
Material (2-10 Years): 55% cotton, 43% Nylon, 2% spandex.
Kids' Socks Come In 3 Sizes - Please Choose The Appropriate Size:

2-4 Years Fits Shoe Size 6-11
4-7 Years Fits Shoe Size 10-1 (Youth)
7-10 Years Fits Shoe Size 12-5 (Youth)

"Shark School - Navy" - for your biter, your fighter, your shark-lover!