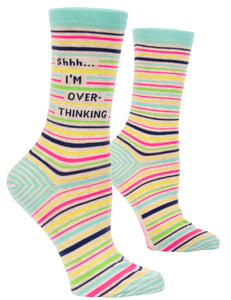 Blue Q "Shhh...I'm Over-Thinking" (Women's Socks)
Blue Q delivers an
impressive
collection of socks with
funny and
inspirational
text.
One size fits most; designed for women's shoe size 5-10
A luxurious blend of combed cotton, nylon for strength, and spandex for durability

Machine wash cold, tumble dry medium; do not bleach
"Shhh...I'm over-thinking"
Don't over-think this pair....You know what they say, if the shoe - or sock! - fits.....