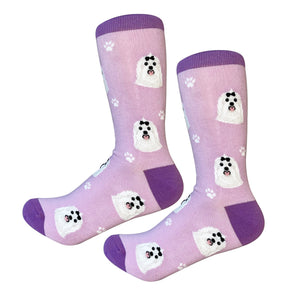 Sock Daddy Maltese - Faces (Unisex Socks)
With beautifully rendered images of adorable dog faces, these Sock Daddy socks are ideal for showing off your favorite pet! Pick out a pair to match your own dog or pick up a pair you know a friend will love!
Unisex socks, one size fits most: Women's shoe size 5-11, Men's shoe size 6-10.
Material: 65% cotton, 25% polyurethane, 10% polyester.
Combines strength, softness, and stretch for the ultimate comfortable blend.
"Maltese - Faces"